The Aneen Road
The Aneen road is the name of an ancient road in Rathcoffey, which is now known, by its more modern name 'The School Road'. It is a cul-de-sac extending southwards from the Maynooth/Clane road for a distance of almost one mile. Although a cul-de-sac it was once a main thoroughfare linking Kilcock with Clane and Naas.
The placename Aneen is a local abbreviation of the Irish An-annia. The second part of the name seems to be Eanach or Annagh meaning a marsh or watery place. The southern section of the road runs mostly through land of this description where there was an ancient lake on one side and moorland on the other side.
The first reference to An-annia is recorded in a Wogan dower from 1417. This document mentions the 'pastures of Avenagh', which was in the vicinity of Rathcoffey and is likely to have been the area where the southern section of the road is situated.
The first detailed map of roads in Kildare from 1752 shows a main road extending from Kilcock to Naas and passing through Rathcoffey along the Aneen road and then extending to Mainham. There was a junction on this road at the beginning of the Aneen road where a link road extended to Donadea. This link road is now the main road extending through Rathcoffey. Also at that time there was another link road at the southern section of the Aneen road, which extended to the Richardstown cul-de-sac.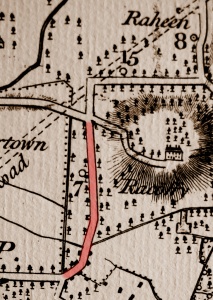 Aneen Road on Taylors Map from 1783
A common feature on main roads at this time was mile-stones, which marked the number of Irish miles between towns. A map from 1783 indicated that there was a mile stone on the Aneen road situated approximately a quarter of a mile south of the present Rathcoffey school. It was the seven mile stone and marked the spot that was seven Irish miles from Naas.
By 1837 the Aneen road had become a cul-de-sac. A re-arranging of the road system in the locality resulted in the re-routing of the main Clane to Kilcock road. The new main road extended through Painstown and by-passed Rathcoffey. The map showed the Aneen road ending at a gateway where there was a pathway leading to Clongowes Wood.
Shortly before 1850, Rathcoffey School moved from a location close to the Church to a site at the entrance of the Aneen road. This event unfortunately led to the term 'school road' gradually talking over as the name of the road.