The Baltracey Quakers
Published in Oughterany, 1999
The Society of Friends or Quakers, as they were more widely known, became established in Ireland from the late 1600s. Following the wars of the 1640s there was a shortage of merchant class citizens in the country, and this void was filled by planters and emigrants from England. Many of these people joined the Society of Friends, and within a short time Quaker families spread throughout the country.
Quaker communities sprang up in the northern half of Kildare with Meeting Houses at Edenderry, Rathangan, Baltyboys (near Blessington) and Timahoe. These rural Quakers were mainly engaged in farming, milling and brewing as well as small merchant businesses.
Prominent among the Edenderry Quakers was a branch of the Watson family, who originally moved from Cumberland to Carlow in the pre-1640 period. Samuel Watson (1659–1732) prospered in Edenderry and leased land in the immediate neighbourhood. One estate was at Ballinamullagh, Carbury, which he acquired in 1715. It had an area of 462 acres (185 hectares), and the lease was for the lives of two of his sons, William and Benjamin. Benjamin died shortly after and William subsequently took over the management of the farm. This William married his (unrelated) namesake Mary Watson from Derrygarron, Rathangan, in 1720. Mary was the daughter of a Colonel Tom Watson who served in King William's campaigns in Ireland in the 1690s.
A letter in the Watson family possession, dating from 1853, gives an account of this Colonel Watson as follows:
Colonel Watson came over to Ireland with King William […]. Though pressed by the King to accept of an estate refused it and purchased the interest of land from the natives and settled at Derrygarron (in English a horse grove) it was mostly in wood of oak. Colonel Watson was […] cousin to the late Marquess of Rockingham. After the battles were over he was disgusted with wars and joined our Society [the Quakers].
William and Mary had two daughters and a son, William (II). However, William (I) seems to have contracted an illness and died in 1729, aged 31. His will has survived and in it he left his estate to his son, with provision for his wife and daughters.
Also prominent among the Edenderry Quakers at that time were the Eves family. They originally came to Ireland from Leicestershire in 1660 and settled in County Wicklow. Two Eves brothers, Joseph and John, moved to Edenderry in the 1715 period and became successful businessmen. Another brother, Caleb, later followed them and in 1731 married William Watson's widow Mary. Caleb then moved into the Watson house at Ballinamullagh and managed the farm. The next year a son, Mark, was born to the couple.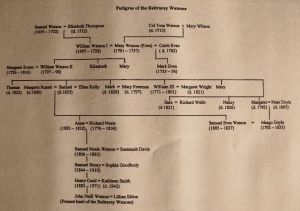 Pedigree of the Baltracey Watsons
In 1734 Caleb purchased Baltracey Townland from a Dublin Baronet named Sir William Fownes. This townland is situated six kilometres south of Kilcock and has an area of 707 acres (283 ha), all arable land. Fownes had acquired Baltracey in 1707 from the previous owner Margaret Eustace. She was the widow of a prominent Jacobite officer, Sir Maurice Eustace from Castlemartin, Kilcullen, whose family had held the Townland from the medieval period. Fownes made many improvements to the estate, laying out orchards and plantations, building dwelling houses and possibly the original Baltracey House, a stone-walled slated farmhouse situated a quarter of a mile (400m) north-east of Baltracey Cross on an old road system. Beside this house was a farmyard consisting of barns, stables and a pigeon house. (Fat pigeons made up part of the payment which the Eves were required to pay Fownes for some years afterwards.) In about 1730 Fownes built a new corn-mill on the Baltracey River. This mill was probably built on or close to the site of a previous mill mentioned in the Civil Survey of 1654 and would have been one of the main attractions of this estate to the Quakers.
The Eves-Watsons moved to Baltracey, successfully managed the estate and operated the corn-mill. They were not isolated from fellow Quakers, as Timahoe was only five miles away and two families there were related to them. William Watson's two paternal aunts, Sarah and Ruth Watson, were married to Henry Russell from Hodgestown and Robert Wyley from Gilltown, respectively. Timahoe was also their spiritual centre as they attended meetings in the Meeting House on a regular basis. In 1744 Elizabeth Watson, eldest daughter of Mary Eves, married Joseph Toplinson from Edenderry, and the next year her sister Mary married Isaac Haughton from Castlebibbon. Both weddings took place at the Meeting House in Timahoe. In 1747 their brother William Watson married his stepfather's niece, Margaret Evens from County Wicklow. However, this marriage was not in accordance with their religion as the couple were married by a priest and as a result lost their membership of the Quaker religion. The couple lived in Baltracey with William working as a successful proprietor of the mill. His mother, Mary Eves, died in 1757 and was buried in Edenderry. Tragedy struck the tiny communities later that year when Mary and Caleb's son Mark, who was heir to the estate, died at the age of twenty-three. With Caleb's death in 1762 ownership of his estate passed to a relative, also named Mark Eves, from Co. Wicklow. It appears that William Watson, Caleb's stepson, retained certain rights to the Estate but was not considered as the heir.
The Eves and Watsons continued to run the estate together. William Watson and his wife, Margaret, had nine children between 1748 and 1771. The community was not without it's scandal when in 1775 Mary Watson, the eldest of the family, was expelled from the Quaker religion because she had dishonoured the community. The following is an account of this affair from that year:
Whereas Mary Watson, Daughter of William Watson of Baltracey, near Timahoe, was Educated in Profession of us the people called Quakers and did some time frequent Our Religious meeting but for want of taking heed to the Spirit of Truth in her heart which would have preserved her, Did join with the Temptation of the Enemy of her happiness so as to cohabit with a man in A criminal manner by whom she has had a child. Wherefore in order to clear the Truth we profess from the Reproach Occasioned by her Disorderly and Wicked Actions and for a Causion [sic] to Others We are concerned thus publicly to Testify against her and Deny her to be of Our Society nevertheless We Sincerely Desire that she may come to a true Sight and Sense of her misconduct and Witness that Godly Sorrow which Worketh True Repentance and thereby Find mercy with the Almighty.
After this incident the Watsons seem to have discontinued to practice their religion. Samuel, the second eldest son, was the first of this generation to get married in 1784 when he married his second cousin, Margaret Russell, from Hodgestown, Timahoe. Mark Eves that year leased Balfeighin Estate which is situated one kilometre north of Kilcock, and Samuel and his wife Margaret went to live there in the original Balfeighin House which dates from that time. In 1788 Thomas, William's eldest son, leased land at Pheopstown from the Prentice family. This estate, situated just over three kilometres north of Balfeighin, is known as Larchill and is adorned with follies and artificial lakes. The follies pre-date the Watson ownership, but Larchill House dates from this time and was most likely built by the Watsons. Two years later, in 1790, Mark Eves let the area of Baltracey known as The Mill Land to William Watson's daughters, Nancy and Sarah. The present Baltracey House is situated in this area of land and the oldest part of the building was built at that time by the Watsons. The two youngest Watson sons, Mark and William (III), had moved to Dublin and set up businesses. Mark subsequently leased Larchill for some years from his brother, Thomas.
William, having successfully served his apprenticeship as a haberdasher and tape manufacturer, went into business and opened a shop named The Spinning Wheel at No. 30, New Row, Thomas Street, and he re-joined the Quakers in 1793 and married Margaret Wright from Co. Wexford. The couple then lived over the shop until William died at the early age of 29 in 1801, leaving three daughters under six and a fourth born later that year.
Mark Eves let the remainder of the Townland, known as Baltracey Farm, to Peter Doyle, a grazier by occupation and a member of the Quaker Community from Carlow in 1792. Included in the area of land was the original Baltracey House, outhouses, barns, stables, pigeon house and also orchards and gardens. A marriage was arranged between William's daughter, Margaret, and Peter Doyle, and the couple took up residence in Baltracey, though it is not clear in which house. Mark Eves had also obtained the lease of Raheen Old, a neighbouring Townland, in 1794, from Revd Richard Cane, Rector of Larabryan, Maynooth, and two years later made an agreement with Robert ("Robin") Aylmer of Painstown which would result in the lands reverting to the latter at Mark's death.
In 1793 the tiny community was shocked by the death in child birth of Margaret Doyle. The couple had been married for less than a year. Margaret's baby, a daughter, survived and was named Margo.
The trying years of the late 1790s did not pass untroubled for the community. In 1796, when there was considerable Defender activity in the general area, the house of Mark Eves at Baltracey was attacked, which resulted in some damage to his property. It appears that during the attack Mark threatened to shoot at his attackers (he "fired a gun threat"). This was contrary to the laws of his religion, and a committee of Quakers was appointed in March of that year to investigate the matter. In the following August the committee also reported that Peter Doyle of Baltracey and Alexander Wiley of Timahoe kept firearms for the defence of their persons and property, and furthermore, that they had expressed their intentions to use them if necessary. This was not in accordance with the Quaker religion, and both men were expelled.
The following month, Mark Eves, who was in the process of making a claim for damages caused during the robbery of his home earlier in the year, was visited by at least one elder of his religion. Proceeding with the compensation claim was not regarded as proper by the Quakers. The inconsistency of his application was pointed out to him, and he appeared to see it was improper. He then expressed regret at not having consulted with his fellow Quakers on the matter, and from this it appears that he dropped his claim.
Mark Eves passed away in 1800, and under the terms of his will transferred the freehold of the Baltracey estate to his cousins, the Eves brothers William, Joshua and Samuel, from Edenderry. Mark's lease of Balfeighin was subsequently acquired by it's occupant, Samuel Watson. Samuel's wife, Margaret, died the same year and was buried in Timahoe. They had two children, Samuel E. (Eves) and Anna. Their father remarried in 1805 to a widow from Kilcock named Ellen Kelly. Peter Doyle died in 1805. His daughter, Margo, then aged 12, inherited the lease of Baltracey farm and it is likely that she was brought up by her relatives, the Watsons. (Her grandmother, Margaret Watson, was then still alive. Her husband, William Watson (II), had died in 1798.)
A marriage was arranged in 1811 between Margo Doyle, then aged 18, and Samuel E. Watson, her first cousin. Their marriage arrangement would unite the three estates then in the family's possession. Thomas Watson, the senior member of the family, and his brother Mark transferred Larchill to their nephew, Samuel E., and the house there became the residence of the newlyweds. Samuel senior transferred the lease of Balfeighin to his son, Samuel E., while Margo Doyle brought to the marriage the lease of the greater part of Baltracey.
In 1820, Samuel E. Watson inherited half the estate of his uncle, Samuel Russell, in Hodgestown, Timahoe. This brought together four estates with a total area of 1,627 acres (650ha). Thomas Watson died in Baltracey House in 1822, and with the death of his sister, Nancy, four years later, finally brought to an end over ninety years of residence by the Quaker families in the Townland.
In 1828 the corn-mill was let by James Webb, a nephew of the Watsons, to Samuel Walsh who had earlier moved into Baltracey House, together with his family. Margo Doyle Watson died childless in 1820 and her husband, Samuel E., died in 1836 at Larchill. They were both buried in the Quaker cemetery at Timahoe. Samuel E. had one sister, Anna, who had married Richard Neale, from Coolrane Mill, Mountrath. Anna's eldest son, Samuel Neale, became the heir to the Watson estates, but he had to fulfil one important stipulation, laid down by his uncle's will, in order to inherit the property. This required him to change his surname to Watson, and failing to comply with this stipulation, the estates would then be offered to his younger brothers, with the same arrangement. Samuel complied with his uncle's wishes and changed his name by deed-poll and thus inherited the Watson estates. Samuel Neale Watson, as he was now known, married Susanna Davis in 1840 and lived mainly in Dublin. The freehold ownership of Baltracey townland passed to Elizabeth, wife of Samuel Eves of Edenderry, at this time. Following Elizabeth's death in 1854, the estate passed to her two unmarried daughters, Sarah and Jane. Her only son, Thomas, was disowned and disinherited for marrying outside the Quaker religion. In 1854, Sarah and Jane re-let the mill and the Mill Land at Baltracey to their tenant, Samuel Walsh. Two years later, they also re-let the former Doyle estate to Samuel Neale Watson. With the passing of the Land Acts of the 1880s, the Eves and the Watsons lost considerable control of their estates to the tenants, finally losing the freehold following the Land Act of 1903.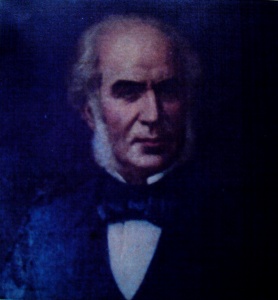 Samuel Neale Watson
Samuel Neale Watson died in 1883. His heir, Samuel Henry, kept up the family tradition in milling when he married Margaret Goodbody, a member of that prominent milling family, the Goodbodys of Clara. Samuel Henry's son, Cecil, was a well known Dublin Quaker and pacifist all his life. He founded the Court Laundry in 1906 and was a model employer. In 1920 he added the name Neill to his surname, in recognition of his grandfather's family, changing the family name to Neill-Watson. Only one local tradition of the Quaker families in Baltracey survives. A raised area in a field close to the original Baltracey House has been traditionally referred to as 'Quaker burial ground'. This area has not been enclosed since at least 1837, and no record of Quaker burials in the locality exists. It is likely to have been a children's burial ground and may have been used by the Quaker community to inter stillborn babies.
Today, over two-and-a-half centuries later, three surviving buildings, Larchill House, the present Baltracey House and the original but now roofless Balfeighin House, remain as a reminder of this once prosperous Quaker family.