Michael Quigley
Published in The Emmet Rising in Kildare, 2004
Michael Quigley was born in 1768 in Rathcoffey the eldest son of John and Mary Quigley. His father, John Quigley, was at different times a farmer, a builder and he also served as a yeoman. Tragically, his mother died when he was five years old in June 1773 and two months later his seven-year-old sister, Mary, also passed away. John Quigley re-married and Michael, subsequently in his writings, frequently made reference to his mother who in reality was his stepmother. Michael attended a school in the Rathcoffey area and one of his fellow students in the school was Hugh Ware who also resided in the village.
Michael became a bricklayer and worked in his father's building business. It is known that at least one of his brothers also took up the trade. In 1787, John Quigley and his sons were employed by Archibald Hamilton Rowan who was extending and remodelling Rathcoffey House. Hamilton Rowan at the time was one of the most famous men in the country and was engaged in radical politics. It is likely that Michael Quigley and others from his generation in the Rathcoffey area were influenced by Hamilton Rowan's left wing politics and developed their own radical ideas. In the early 1790s Hamilton Rowan became one of the principal leaders of the United Irishmen and this prompted many in the locality including both Michael Quigley and his friend Hugh Ware to join the Society.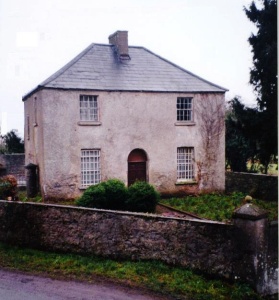 Quigley's House
In 1788 John Quigley took out a ninety-nine year lease on his holding and his eldest son, Michael was a witness to the transaction. The farm, which had been in the family's possession from about 1750, had an area of twenty-three statute acres and was leased from Richard Wogan Talbot for an annual rent of £21. 0s. 11d. Five years later, in 1793, John Quigley mortgaged his property to John Cahill from Dublin and borrowed a substantial sum of money. It is likely the money was used to build the dwelling house which dates from that period. John Quigley died in 1795 and in his will left his property to Michael with some provisions for the other members of the family. Michael was at the time employed as a bricklayer on the construction of Maynooth College. It is known that he also worked at his trade in Dublin and had been employed casually by Mr Sibthorpe the builder of Cork hill.
Activity in 1798
During the 1798 rising the rebel leadership of the north Kildare area was held by William Aylmer and Hugh Ware, who were both from Rathcoffey, Quigley's home village. Aylmer served as Colonel of the local rebels with Ware his second-in-command. Michael Quigley was selected as a Captain within the rebel command structure of the barony. William Aylmer was the son of Charles Aylmer, the principal landowner in the area. The Aylmers and the Quigleys were acquainted having been engaged in several land transactions in the 1790s.
Quigley took part in most of the engagements during the two months of conflict in the north of the county in 1798. He was present at the battle of Prosperous on the night of the 23rd–24th May. On the 19th June, he also took part in the battle of Ovidstown and was present when the rebel camp at Hortland was attacked. But the encounter that he is best remembered for during '98 was an ambush on the 4th July at the Gollymocky bridge close to Clongowes Wood near Clane. On this occasion he commanded a large party of rebels who ambushed a unit of yeomen passing between Sallins and Kilcock. The rebels concealed themselves in the hedges on both sides of the road from the bridge along a stretch of road that extended up a hill. There was usually an advance party with the yeoman unit and Quigley ordered his men not to fire on this party but to let them pass. Then he would give them the order to fire when the maximum casualties could be inflicted. Commanding the yeomen unit was Sir Fenton Aylmer from Donadea Castle and his second in command was Michael Aylmer from Courtown. As the advance party approached the bridge one of the rebels named Claffey from Clane recognised a yeomen named Nobel who had committed an atrocity against his family and immediately fired at him. The remainder of the rebels then opened fire killing three of the four soldiers in the advance party. The main unit including the officers then escaped.
In late July the rebel leadership negotiated favourable surrender terms. According to the terms the rebel officers were to be imprisoned until the Government thought it appropriate to release them on condition that they leave the country. A free pardon was given to the rank and file rebels. The agreement was signed by a number of high-ranking army officers and eighteen rebel officers which included William Aylmer, Hugh Ware and Michael Quigley. The surrender took place at Sallins on the 21st of July 1803. Many of the rebels including Quigley had been engaged in rebellion for fifty-six days. He was imprisoned in Kilmainham for three years and seven months and was among the last group that were released on the 9th of April 1802. They were then allowed two months to leave the country according to the terms of the 'Banishment Act'.
Quigley, together with Hugh Ware, Brian McDermott and John Reilly who had also been released with him, chose France as a country of exile. They arrived in France in late June and travelled to Rouen where they made contact with William Puttenham McCabe a prominent United Irish leader. Moving on to Paris, Quigley eventually found work as a bricklayer. There were many Irish political refugees in the French capital at the time and the four Kildare exiles became acquainted with a number them, most notably with Colonel McDonnell and Surgeon Lawless. In late 1802 McDonnell introduced Quigley, Ware and McDermott to a conspiracy known as the Louisiana project. This was a private scheme by Irish exiles to invade the west of Ireland and it was hoped that General Humbert who had led the French expedition to Connaght in 1798 would lead the new invasion.
In early 1803 Puttenham McCabe who was closely connected with Robert Emmet's conspiracy, persuaded the three former Kildare rebels in Paris to return to Ireland and organise support for the Louisiana conspiracy in county Kildare. Ware was the recognised leader of the Kildare group at the time. Thomas Russell who was also assisting McCabe gave Ware £30 for expenses and directed him to distribute it equally between himself, Quigley and McDermott. This money had come from Robert Emmet for the purpose of conscripting United men in Paris. Ware, however, remained in Paris while Quigley and McDermott set out on the journey back to Ireland. Their instructions were to go to McCabe's house in Rouen and wait for Henry Hamilton who would accompany them to Ireland. While they were waiting in Rouen, McDermott returned to Paris to collect mail. Hamilton arrived in Rouen shortly afterwards and together with Quigley set out for Ireland. However it was expected that both Ware and McDermott were to come over at a later stage.
Conspiracy in 1803
On the 5th of March Hamilton and Quigley arrived at Bullock harbour near Dalkey and proceeded to Dublin. Hamilton then introduced Quigley to Robert Emmet at Corbet's public house in Capel Street. Later that evening Emmet and Quigley met again at Dillon's public house 'The White Bull' in Thomas Street. They discussed the conspiracy and planned ways of organising Kildare dissidents and of getting them to Dublin for a future rising in the city. Quigley, although he had been imprisoned or banished since 1798 was acquainted with recent events in Kildare as he had visited the county following his release in April 1802. He informed Emmet that 1,000 rebels from Kildare would assist in a renewed rising and it would take them no longer than two days to get from the furthest part of the county to the city. Emmet then sent Quigley back to Kildare on a mission to enlist support. He gave him fifteen guineas to pay expenses on the trip and also sent Thomas Wilde, John Mahon and Charley Kane with him as his assistants. They were colleagues of Quigley's from the '98 rebellion in Kildare who had been living in Dublin and had joined the new conspiracy.
Quigley and his group visited all the areas in the north of the county where dissident support was strong including Naas, Maynooth and Prosperous. He informed them that there was a new conspiracy in Dublin led by men of consequence and that there were plenty of arms available. The people were also informed that the French were on the way and were expected soon. When he visited areas where dissidents were not organised he urged them to form groups and elect officers. In Timahoe he suggested to the people assembled there that there was plenty of money to support the conspiracy. He demonstrated this by showing them a fistful of guineas that he had taken from his waist-coat pocket. He visited his home village of Rathcoffey and conscripted Thomas Frayne who was associated with the Maynooth dissidents. An account of Quigley's visit to Kildare at the time indicates that he was
privately going through every part of the county, holding meetings of the leaders of the Kildare rebels in the former rebellion and using every means in his power to excite and revive the ancient tradition of disaffection in that county.
When Quigley returned to Dublin he brought two representatives from the county back with him and introduced them to Emmet. They included Michael Dalton who had connections with the Naas United group and Thomas Frayne. His mission had been a success and the various groups in Kildare were willing to join the Emmet conspiracy. Emmet was delighted with Quigley's success and placed him in charge of organising the county.
News of Quigley's activity quickly spread to dissidents throughout the north of the county and large numbers joined the various United groups. On Quigley's next trip to the county he visited Michael Doorley in Lullymore and conscripted the local United group which had remained active from 1798. He was almost certainly present at a meeting in Timahoe on 13 March where several hundred gathered in a field close to the summit of Hodgestown Hill. At another meeting in Timahoe on the 18th of March, Quigley was reported to have distributed hand-bills.
The magistrates in north Kildare soon discovered that Quigley had returned from exile and were alarmed at his activities. They immediately contacted the authorities in Dublin castle and provided them with details of his activity. Quigley soon realised that the authorities in Kildare were aware of his return and seeking his arrest. He decided to keep a low profile and continue his work for Emmet in the capital. With contacts established in Kildare he could carry on directing activities from Dublin. Emmet, at this time, was looking around for a number of buildings to use as arms depots including one for use by men from county Kildare. Quigley, who was lodging in the White Bull Inn, knew of an empty malt-house in Marshalsea Lane, close to the rear of the Inn and suggested its suitability to Emmet. He had been busy in Dublin in between his visits to Kildare conscripting fellow county men in the capital. One of the first he enlisted was Ned Condon who had been in prison with him between from 1798 and 1801. Condon introduced him to his friend, Henry Howley from Roscrea, another veteran of '98. Howley was unknown to the Dublin authorities and Quigley recommended him to Emmet as one suitable for taking the lease of the Marshalsea depot. When the building was taken Emmet put Quigley in charge and it became his principal depot. Quigley moved into the building and from then on went by the alias of Captain Graham. Barney Doogan who had served with Quigley during the '98 rising in north Kildare, joined the conspiracy at this time. Both Doogan and Condon also moved in to the depot and together with Quigley and Howley began working on the manufacture of pikes. In order to conceal the weapons in the depot Quigley built false walls in the building with Howley assisting with the carpentry work. Other assistants were recruited, mainly carpenters who planed timbers for pike handles. Some of the assistants worked for only their keep and others, particularly the carpenters, were paid. Emmet supplied Quigley with the money to pay their wages. At first, Quigley and Doogan were the only two from the depot who would have contact with Emmet or the people in the other depots.
A chance meeting with Nicholas Stafford in June gave Quigley his most valuable recruit. He was also a veteran of '98 and within a short time due to his friendship with Quigley he had become one of the leaders. Gradually an inner circle of trustworthy assistants was emerging. They were the principal people associated with the Marshalsea Lane depot and were also employed in assisting Emmet personally. Quigley was the leading figure among this group who considered themselves Emmet's staff.
With the plans for the rising almost complete and the date finalised, Emmet instructed Quigley to summons a number of the north Kildare leaders to the depot for a meeting. Quigley brought Thomas Frayne, Owen Lyons and Thomas Kerrigan to the meeting which was held on the 16th of July. Emmet appointed the Kildare men officers and introduced them to Nicholas Gray who was to lead the Kildare men into Dublin for the rising.
There is one light-hearted incident relating to Michael Quigley and Anne Devlin that occurred in the Marshalsea Lane depot shortly before the rising. At this time, Emmet had moved into the building following the explosion in the Patrick Street depot. Anne Devlin came to the depot with a clean shirt for Emmet, and when she arrived there was no one downstairs. She made noise to attract attention, and Quigley and Howley looked down from a trap-door. Anne enquired for Mr Ellis, Robert Emmet's alias, explaining that she had clothes for him. Quigley, a bachelor and a flirt, who was known for his sense of humour indicated that Mr Ellis was not in the building and suggested in a joking manner that she come up and leave the clothes on his bed. Anne, who saw no humour in the remark, left the shirt on a chair and departed.
In the days before the rising, it seemed that Quigley was showing a lack of caution. On the 20th of July Quigley met James Tiernan, the leader of the 1798 rebels in Clane, who had been in prison with him and had now returned from banishment. Tiernan had come to Dublin with a tailor named Shea, to assist in the rising. Quigley brought them into the depot but Wilde and Mahon were suspicious of Tiernan who on one occasion had deserted his rebel unit in '98. They suspected the two men could be spies. Quigley then informed Emmet who ordered that Tiernan and Shea be prevented from leaving the depot. Two days later Patrick Farrell who had been eavesdropping at the door of the depot was also thought to be a spy. He was then seized by Emmet's staff and imprisoned in the building. When Farrell was asked if he knew anyone in the depot he indicated that he had known Quigley when he worked in the construction of Maynooth College in 1795. He also knew Tiernan as they had worked together in the past at Dease's of Firmount near Clane. The following is Farrell's written account of the incident
…was passing through Marshal Lane the night before the insurrection, heard a noise in the warehouse, stopped to listen, the door was opened and [Farrell] was drawn in, describes the contents of the depot, the first man he knew in it was Quigley, he was called there Graham, he was giving orders there in Emmet's absence, they all seemed to obey him. In the morning [Farrell] asked him [Quigley] to let him out, for many poor men were depending on his return for being paid their wages. 'Bring me all their names' says Quigley, 'and I'll pay them tomorrow.' [Farrell] said that he would not do, then Quigley said [Farrell] must not be let out.
1803 Rising
On the day of the rising, Saturday the 23rd of July, Quigley began to make serious mistakes possibly due to nervousness. Vital to the explosives that were to be used in the rising were slow matches, a type of fuse, which would detonate the bombs. Quigley mistakenly mixed the boxes containing finished slow matches with unfinished ones and the differences between the two could not identified. Because of this error the bombs were rendered useless. Another blunder on Quigley's part occurred later on in the evening when he was on lookout duty in the area around the depot. Shortly after 8 o'clock he saw army activity in the streets close by and suspected that they were searching buildings. He panicked and rushed into the depot with the news. This caused Emmet to order the rising to begin two hours earlier than planned. Weapons were quickly distributed and Emmet put on his General's uniform with Quigley and Stafford putting on their Colonels' uniforms. Patrick Farrell, who was still held prisoner in the depot, described the scene at this time
Saw the three of them dressed in the evening in uniform. Quigley had one epaulet, Emmet had two, the third person [Stafford] had but one. Quigley was not fully dressed when [Farrell] was called down, a sword and pistols lay on the table near him. Quigley had not his hat on, there was one of the hats with a green feather which [ Farrell] saw Emmet put on, does not know which of them owned the hat with the green feather but heard once during the day that it was the generals hat.
When Emmet led his men from the depot he was flanked on either side by Quigley and Stafford. John Fleming, the ostler of the White Bull Inn, indicated that he 'heard Quigley at the door [of the depot] order the men to come on; saw him afterwards in Thomas Street in his uniform, his sword drawn in front of the party close to Mr Emmet'. The account of the rising given by Quigley himself is as follows
A little after 9 o'clock the crowd having assembled got their pikes at the depot, the persons withinside marched out with such arms as the place supplied, and all together proceeded to Thomas Street, Emmet and Quigley been dressed in their uniforms. On mustering their troops the whole number did not exceed three hundred of whom not above eighty could be relied upon. Mr Emmet, thinking this force not sufficient to effect anything, endeavoured, to lead them to the mountains as he had intended, but he could not prevail on the general body to leave Thomas Street. Seeing them regardless of his orders and wholly occupied in murdering individuals, he, together with Quigley and a few other confidential persons left them to their fate and retired from the city first to Butterfield and then to the mountains…
The confidential persons referred to by Quigley were largely members of Emmet's personal staff who had stayed by their leader when the rising had collapsed. When they reached Butterfield Lane, Emmet and Stafford confided to Anne Devlin that Quigley's mistaken alarm was one of the principal causes of the failure. Although no one mentioned this to him he realised his blunders had contributed to the failure and was more silent than the others during that night. The following day the rebels left Butterfield Lane and proceeded to Devlin's farmhouse nearby. From there they fled to the Dublin Mountains and arrived at Jock Doyle's house at Ballymace early on Tuesday morning the 26th July. The three uniformed rebels, Emmet, Quigley and Stafford were introduced as French officers. The group of rebels consisting of fourteen men took turns to sleep in beds in the house. Emmet and Quigley, both in their uniforms, lay on each side of Doyle in his bed. Quigley even joked with Doyle by saying 'you have a French General and a French Colonel beside you what you never had before'. The following evening the rebels moved to Rose Bagnall's farmhouse at Ballinascorney. With the rebel officers still posing as French officers, Quigley often engaged in conversation with the local people in broken English. On one occasion he even boasted of his ability to speak English stating 'me can speak English as well as you can'. However, he was not very successful at imitating the French as his Kildare accent was easily identifiable to the local people. On the 28th July Anne Devlin and Mary Wilde brought letters to the rebels in the mountains and located them on the roadside in Ballinascorney. Mary Wilde was related to a number of the rebels with Emmet. She was the sister of Thomas Wilde, the sister-in-law of John Mahon, and Michael Quigley was later to become her husband.
Emmet at this time decided to return to the city with the two women. He held a meeting with the rebels and all agreed that the group would split up and return to their own areas. Quigley and the principal members of Emmet's staff decided to remain as a unit and arrangements were made to keep in touch with Emmet by correspondence. Quigley then brought the group, which included Nicholas Stafford, Thomas Wilde, John Mahon, Charley Kane and the two Parrot brothers to his home village of Rathcoffey.
On arriving in Rathcoffey, Quigley and his party went into hiding staying in Rathcoffey Demesne by day and safe houses by night. They were assisted by many local people in the area including the Quigley family. Others rebels from Dublin arrived and joined them including Ned Condon and also Barney Doogan who later indicated that there were fifteen men under Quigley in Rathcoffey at this time. Contact was made with Emmet and Charlie Kane, one of the rebels, acted as the go-between carrying messages between Emmet in Harolds Cross and Quigley in Rathcoffey. Quigley at the time was regarded as Emmet's second-in-command. One of the messages that Emmet sent to Quigley instructed him to choose a place in the country for another attempt to be made at a rising, which it was hoped would have the support of Dwyer. Quigley suggested that Prosperous might be a suitable venue but insisted that the people would not support another attempt before a French landing. Nothing came of it as Dwyer rejected the move. By mid-August, Quigley and his associates in Rathcoffey were getting impatient and this was conveyed to Emmet who then wrote back to Quigley with the following instructions 'that they would remain properly quiet in Kildare and not attempt to do anything before the French landed; that he might rely on their being here before the fifteenth of October'. This message reached the rebels on or about the 21th August and was apparently the last correspondence they received from Emmet, as he was arrested on the 25th August. The arrest was a severe blow to the rebels in Rathcoffey but they nevertheless adhered to his last advice and kept together in the expectation of a French landing later in the Autumn. The authorities now concentrated on searching for Quigley. Admiral Pakenham, the officer leading the search for rebels in north Kildare, scoured the countryside with a detachment of Downshires from Celbridge in an unsuccessful attempt to find Quigley. On the night of the 3rd of September 1803, they searched Quigley's house in Rathcoffey. The following is a letter Pakenham sent to Marsden the Chief Secretary regarding the search.
We have examined this country from Timahoe to Dunboyne without being able to find Quigley, indeed his house and all approach to it except from the street was so barricaded that it was 10 minutes [illegible] we could inter and then by breaking the door open. In the house were only two old women and in an outhouse two brothers of Quigley and a son of Parrot, one other person had evidently had escaped which could have been either Parrot or Quigley for we found a pair of shoes more than they had use for and a bed more than those present could occupy. Neither threats or promises could induce any man in this country to so as guide within a [illegible] of Rathcoffey and we found the people in that country very vigilant indeed, they were all either alert or awake in their beds and seemed ripe for any sort villinary.
During the trial of Robert Emmet in mid-September Quigley's activities were mentioned in court and he was also referred to by his alias, Captain Graham. One of the attorneys, Councillor Plunket, spoke in a sarcastic way of the humility of Emmet's companions and he described Michael Quigley as
originally following the occupation of a bricklayer, but he thought proper to desert the humble walk in which he was originally placed and to become the framer of constitutions and a subverter of empires.
Following the execution of Emmet on the 20th September, the rebels hiding in Rathcoffey decided to split up. Quigley together with Stafford, Doogan, Condon and the two Parrots remained in one group and travelled to county Galway. Before they left Quigley promised his mother that he would write when he reached his destination. The letter was to be written in a way that only colleagues would understand and addressed to 'Old Paddy' of Rathcoffey. This man was almost certainly Patrick Ware whose daughter, Margaret, gave the rebels a pony to assist them on their journey. They travelled disguised as spulpeens. When they reached Galway some of them lodged with the father of the Parrot brothers who lived at Ardfry and others stayed with Conor Keevan nearby. Ardfry is situated on Galway Bay close to Clarinbridge and it is likely that this area was one of the sites earmarked by the promoters of the Louisiana project where the French would land. Conor Keevan was then hired by the group to deliver messages to Kildare and Dublin. He travelled to Rathcoffey and returned the pony to Margaret Ware and also gave her a letter from Quigley. He then moved on to Lucan and delivered a letter to the wife of John Parrot before proceeding to Dublin to make contact with some of Quigley's associates.
On the 11th of October Quigley was named on a proclamation that outlawed ten rebels who were accused of high treason. A reward of £300 was offered for his capture or information leading to his arrest. According to a contemporary description of him at the time he was 'five feet seven inches in height, with black hair, a cocked nose, hollow eyes, black looking, good address and straight made'.
Arrest of Quigley
Even before the proclamation was issued the authorities had received intelligence that the rebels were in county Galway. On the 12th of October following a search of Parrot's farmhouse at Ardfry, Quigley and four other rebels were taken into custody. Barney Doogan was the only one of the rebels that escaped. The rebels were immediately brought to the Tower in Dublin Castle for interrogation. Quigley was questioned by Wickham, the Chief Secretary, who described him 'as the cleverest man I have seen or conversed with of all the rebels'. It was expected that he would be immediately put on trial and executed. However, the authorities questioned him almost continually for eleven days and during that time they offered to spare his life if he became an informer. At first he refused then on the 24th of October he agreed to become an informer on certain conditions and requested a meeting with Wickham. One of the principal conditions included sparing the lives of his colleagues. This was rejected, as the government wanted an unconditional submission. Then on the 28th of October he finally gave in and agreed to reveal all he knew of the rising. He made a strong request in writing for the lives of his colleagues namely Stafford, Frayne, Wilde and the Parrot brothers. Although the Government indicated that there would be no terms given to Quigley both Hardwick, the Lord Lieutenant and Wickham, indicated that his life would be spared if his disclosures be made fairly and without reserve. Wickham suggested that Quigley giving 'information to the Government will do more to pacifying the country than the execution of twenty men of his rank and station in life'. It is therefore likely that Quigley received verbal guarantees that his comrades' lives would be spared. The executions then ceased. Up to that time twenty-two had been executed for their part in the rising.
For a number of weeks after he agreed to become an informer Quigley gave Dr Trevor details of almost everything he had done from the time of his release from Kilmainham in April 1802. He also gave evidence before the Privy Council and showed discretion in mentioning the names of persons implicated. With regard to his involvement in the rising he left them with no loophole by which they could seek his execution. The people he named were those who had been executed and one or two others of little account. He told the truth skilfully without deeply incriminating himself or the others then in custody.
When the state prisoners in Kilmainham learned of Quigley's arrest they feared that he would be compelled to disclose information and more serious charges would be brought against many in the prison. On the 23rd of October, Quigley was transferred to the prison and there were no repercussions against the prisoners. It was known that he had disclosed some information but according to Anne Devlin, 'what ever he said is unknown but it never injured anyone'. It was also accepted by many prisoners that the executions ended when Quigley was arrested.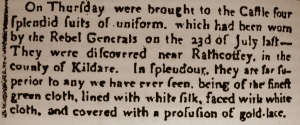 About the Uniform
In early October, before Quigley's arrest, the authorities received a tip-off that fire-arms were hidden close to Quigley's house in Rathcoffey and that rebel uniforms were hidden in a warren in Rathcoffey Demesne. Initial searches in Rathcoffey found no arms. Then, on the 27th of October following a search of the warren in the Demesne, four rebel officer jackets were found in a rabbit hole. One of the jackets belonged to Quigley who was wearing part of a rebel uniform when he was arrested in Ardfry. The remaining jackets belonged to Emmet, Stafford and Frayne.
Following the arrest of Quigley and his group, Thomas Wilde and John Mahon were the next highest-ranking members of Emmet's staff still free. In December there was an unsuccessful attempt by the authorities to capture them, in which one officer was shot dead and another wounded. Thomas Wilde's father, Henry, was then arrested and imprisoned in Kilmainham. In the prison, Quigley was allowed access to him and ordered to find out where the two fugitives were hiding. On one occasion he was given whiskey by Dr Trevor, the superintendent of the prison, in order to get Henry Wilde intoxicated. Quigley subsequently passed on information giving numerous hiding places throughout the midlands but this did not lead to the capture of Wilde and Mahon. It seems the authorities were sent on a wild goose chase by Quigley. He was on good terms with the Wilde family and, although he had promised to deliver Thomas Wilde to the authorities, he did't keep his side of the bargain. Eventually the rebels escaped from the country having been in hiding close to the Quays in Dublin.
The most uncharacteristic aspect of Quigley's career, were the regular letters he sent to Dr Trevor detailing gossip and information from fellow prisoners. He was careful however, not to divulge information too quickly. One example of this was when he suspected Puttenham McCabe had visited his house in Rathcoffey. He first of all indicated in a letter to Trevor that an unknown stranger had been at his house in Rathcoffey but did not inform him that it was McCabe. A short time later he wrote again to Trevor and on this occasion informed him that he thought it was McCabe. It was likely that he expected the authorities would discover McCabe's visit and he waited a short time before disclosing the full facts in order to give McCabe adequate time to leave the area. On another occasion in 1805 when Thomas Tiernan was arrested for breaking the terms of the banishment act, Quigley was instrumental in obtaining his eventual release. He informed Dr Trevor that Tiernan was not involved in the 1803 rising and had been confined by the rebels who suspected him as a spy. Quigley's other activities as an informer have been well documented throughout the years by historians who have given him a negative coverage. A first examination of Quigley's letters to Trevor would indicate that he was disclosing vital information concerning the rebels. However, a closer examination reveals that his disclosures were very cleverly given to cause the least harm to his colleagues. It also appears that he failed to disclose the names of rebels who were unknown to the authorities.
In September 1804, after almost one year in prison, Quigley was one of a number of state prisoners who petitioned the authorities to send them into exile in America. The request, not surprisingly, was turned down. It seemed that Quigley was destined to a lengthy stay in prison. However, when a new government was elected in February 1806, the act renewing martial law was allowed to lapse. The state prisoners would have to be either put on trial or released. Although Quigley's life had been spared in 1803 the authorities had sufficient evidence to sentence him to transportation. It had only been nine months from the time that Michael Dwyer had been transported. Quigley was therefore compelled to continue with his spying activities after his release on terms laid down by the authorities. The Home Secretary at the time suggested that Quigley be released among the last of the prisoners in order to prevent suspicion of his spying activities. On the 29th of June Quigley's brother came to Dublin and hired an attorney to assist in his release. Finally, on the 12th of July 1806, Michael Quigley was released on bail. In total, between the two periods of incarceration, he had spent six years and four months in Kilmainham gaol.
Quigley's Life After His Release
The terms of his release required him to live in Dublin. However, within three weeks of his release, he returned discreetly to Rathcoffey to see his mother. It appears that news of his visit spread throughout the locality and he received a welcoming reception from a large number of his friends. Fearful that the authorities might suspect dissident activity he decided on his return to Dublin to contact Dr Trevor and explain the circumstances of his visit. The Government at the time were contemplating setting Quigley up in a business from which he would conduct spying activities. It appears that Quigley made suggestions regarding the nature of the proposed business. Eventually it was decided that Quigley would become a publican in an area close to the Canal Harbour in Dublin. Dr Trevor obtained a grant of £200 from the secret service fund for this purpose and Quigley opened a public house in Echlin Street close to Canal Harbour. This was where passengers travelling by canal boat from the country would disembark. The authorities hoped that Quigley's public house would attract Kildare dissidents and that he would then pass on information of their activities.
On the 19th of October 1806, Quigley married Mary Wilde of Cork Street. She was the sister of Thomas Wilde and had accompanied Anne Devlin with mail to the mountains when Emmet and the rebels were in hiding. The Wilde family lived in Prosperous between 1782 and 1798 and it is likely that Mary had known Quigley during this time. John Hevey who had also been in the mountains with Emmet and Quigley, was the best man at the wedding. Between 1807 and 1811 Quigley and his wife had at least four children, two sons and two daughters; John born on the 17th Aug 1807, Ester born on the 7th of July 1808, Jane was born on the 2nd of October 1809 and Peter born on the 2nd of March 1811.
During this time Quigley continued to send items of gossip to Dr Trevor from his Echlin Street address. As time passed he gave the impression that none of his fellow prisoners ever visited his premises. It appears that Quigley intentionally cut himself off from his former associates so he would have little or no information to reveal. He was a reluctant spy and no evidence has come to light that he received payment other than the money supplied for him to open the public house. In 1808 he moved to Cork Street where he was less conspicuous to dissidents travelling to and from Dublin and therefore less likely to obtain information.
It is unknown to what extent Mary Quigley knew of her husband's spying activities. However, one incident shortly after they moved to Cork Street could have been the result of a quarrel they had in relation to his activities. It was reported that Quigley had taken to drink, smashed the windows of his shop in Cork Street and ill-treated his wife. The incident was reported to Major Sirr of Dublin Castle who was unaware of Quigley's spying activities and he suspected that Quigley was still involved in dissident activity. The Major reported the incident to the Under-Secretary in Dublin Castle who all along had been the official receiving information from Quigley. The matter was not pursued and no action was taken against Quigley.
Also in 1808 he received a letter from the authorities regarding certain rumours of a political nature. His reply was written in almost indecipherable handwriting, which may have been intentional. It contained no worthwhile information. He did, however, indicate that his mother was ill and it is likely she died later that year. His letters to Dublin Castle became very infrequent after this and eventually faded out by the year 1810. After seven years he had successfully freed himself from the unpalatable requirement of spying on his former colleagues.
While Michael Quigley was in prison in November 1800 he transferred the leasehold of the family dwelling house and surrounding land in Rathcoffey to his brother, Joseph. But, he retained an interest in the family property in nearby Raheen. The property at the time was mortgaged to John Cahill who had lent a large sum of money to John Quigley in 1793. The loan remained outstanding and Cahill subsequently took legal proceedings to recover the debt with interest. The matter became more complicated however, when Cahill died in 1810. Richard Dunne, the executor to his will, pursued the matter and an order was brought before his majesty's court to sell the Quigley house and lands by public auction. At this point Joseph Quigley made an agreement with Robert Aylmer, older brother of William, the former United Irish Colonel, to pay the outstanding debt for an interest in the lease. The final details of this complicated settlement were not finalised until June 1812 when Robert Aylmer paid Richard Dunne £239 1s. 4d. Michael Quigley, who was a party to the agreement, was described as a manufacturer, residing in Cork Street, Dublin.
By this time officials in Dublin Castle had largely forgotten Quigley. He had severed his connections with former rebels including Stafford and Doogan who was secretly working as a spy for Dublin Castle. It is likely that Quigley feared the government may at some future point compel him to renew his spying activities and when the opportunity came for him to leave Dublin he returned to live on the family farm in Rathcoffey. As he got older he refused to discuss his former activities and he kept a low profile. There are few details surviving of his life in Rathcoffey. One record relates to the marriage of his daughter, Ester, in 1830 when she married a local farmer, Michael Dunne, in Rathcoffey Chapel. Three years later according to the 'Tithe Applotments' records, Michael Quigley was a substantial farmer in the area. He had extended his holdings in the Rathcoffey area and farmed 120 acres. The freehold of his farm at this time had passed from the family of Robert Aylmer to the family of Colonel Michael Aylmer. The head of this branch of the Aylmers was Captain John Aylmer who had served as a yeoman leader in Naas during the 1803 period and was now living in the family seat at Courtown.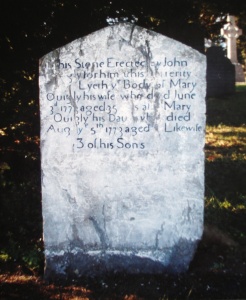 Quigley Headstone
During the years of the great famine in the late 1840s, Michael Quigley got into financial difficulties, with the years of 1847–48, being very difficult for him. A combination of high rent, failure of crops, and loss of cattle left him two years in arrears and his health was failing. His landlord, Captain John Aylmer, then went through the process of gaining repossession. Quigley was by this time bedridden. But there were crops on the farm valued at approximately two-thirds of the rent. He wrote to Captain Aylmer and offered him all the crops and the farm at Raheen, provided that his wife and children were allowed to remain in the house and the surrounding twenty-three acres. This land had been in the family possession for a century. In the letter he reminded Captain Aylmer that his wife's brother, Thomas Wilde, had saved the life of Captain Aylmer's father-in-law, Sir Fenton Aylmer, at Ovidstown in 1798. He also indicated that Wilde had saved the life of General Cole, Fenton Aylmer's cousin, in Thomas Street in 1803. Because of this fact he claimed his wife had a personal claim for justice and leniency from the landlord. But this was to no avail as Mary Quigley was tricked into leaving the house for the purpose of carrying out an arrangement with the landlord. When she returned, the house was in the possession of bailiffs and she was not allowed to enter. Michael Quigley was too ill to be removed and remained in the house looked after by his young grandchild. There was a stand-off which lasted for several weeks between the Quigley family and the bailiffs. Mary Quigley was not allowed to see or talk to her husband and on one occasion was forcibly removed from the window of his bedroom when she attempted to speak to him. For several weeks Quigley lay in bed suffering with a painful illness and was denied contact with his family. The standoff ended with his death in late September. Quigley was buried in the family burial plot at Ladychapel which is situated three-quarters of a mile from his residence. Mary Quigley returned to Dublin and it is known that she renewed her acquaintance with Anne Devlin. According to an account of her in the late 1840s she was a widow living in the poorest circumstances.
The only positive tribute to the memory of Michael Quigley was his obituary in the 'The Nation' newspaper following his death in October 1849. His activities as an informer eventually became known and he was subsequently slated by numerous Emmet historians. His role in the 1803 rising has also been downgraded by various writers. Until the present research there has been no proper attempt to examine his motives or reasons for becoming an informer. Nevertheless, because of his revelations, a great deal of information on the Emmet rising has been recorded for posterity. Today, after two centuries, it is time for Michael Quigley to finally gain recognition for the leadership role he played in two important events in Irish history.