Wolfe Tone and his Family Connections
with County Kildare
Published in The Kildare Nationalist, September 2009
Theobald Wolfe Tone is one of the most commemorated patriots in Irish History, but there is very little known of his County Kildare connections apart form the fact that he is buried in Bodenstown.
The Tone family are of French Protestant origin, and moved from Glascony to England in the late 16th century due to religious persecution. A branch of the family moved to Ireland in the early 17th century and settled in Dublin.
In the mid 18th century William Tone obtained a leasehold in the Bodenstown area and came to live in the townland of Blackhall. He also acquired land in the townlands of Sallins and Whitechurch. In 1755 he purchased the leasehold of the entire townland of Castlesize which is situated on the Sallins to Clane road and this brought the Tone family holding to an area exceeding 400 statute acres. At the time there was no village in Sallins and the Tone family always made reference to residing in either Clane or Blackhall. Some historians suggest that the Tone family dwelling was situated in Glebe land opposite Bodenstown graveyard. This house is marked on the first OS map of 1837.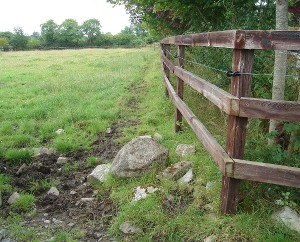 Site of the Tone family farmhouse
The Wolfe family of Blackhall were the largest landowners in the area and they were freeholders of a small section of land leased by the Tone family. It is likely that the two families became acquainted and would have shared a common Williamite political tradition.
In the early 1760's William Tone's eldest son Peter became acquainted with Margaret Lamport who was employed by Theobald Wolfe in Blackhall. She was a leading member of his household staff and served as a companion to Mrs Wolfe. Margaret was a Catholic and it was very unusual for someone from her religious background to have such an important position in the Wolfe household. There is a suggestion that she was a distant relation of Mrs Wolfe or in some way connected to her family. The Lamport's were a well-to do family that were involved in merchant shipping. They originally came from Drogheda but by the late 1700's resided in Dublin.
In 1762, Peter Tone and Margaret Lamport were married. Margaret subsequently converted to her husband's religion. The couple went to live in Dublin where Peter set up a coach building business. Their first residence was at 27 Bride Street and it was there that their eldest son Wolfe Tone was born on the 20th of June 1763. Theobald Wolfe, Margaret's former employer was godfather to the child, who was also given his sponsors name. Although there are persistent rumours concerning Wolfe Tone's paternal parentage which suggests that Theobald Wolfe was his biological father, the Tone family themselves never gave any credibility to the story.
The family did not remain long in Bride St and moved to a larger property in Stafford Street now known as Wolf Tone Street. It was here that the young Wolfe Tone grew up.
In 1766 three years after the birth of Wolfe Tone, his grandfather William died in tragic circumstances a result of a fall from a hay-stack. He was buried close to the south wall of the Church in Bodenstown graveyard and a memorial was erected to his memory.
The property then passed to Peter his eldest son and heir. However, a family agreement was made between Peter and his brother Jonathan relating to the property. The possession and responsibility for the management of the farm was given to Jonathan while Peter continued in his coach building business which was apparently very successful at this time. In addition to Jonathan, Peter had six other siblings, they included, Matthew, and Mary who was married to a local man John Dunbavin from Naas.
The arrangement relating to the management of the farm did not work out satisfactorily and serious differences surfaced between Jonathan and Peter. It appears that Jonathan was a fast living young man who got into debt and as a result could not pay his rent. He was subsequently imprisoned in the debtor's prison in Naas. Peter at this point decided to regain possession of the farm but used a ruthless method. Initially, he allowed Jonathan to sweat it out long enough in prison before paying him a visit. At this stage Jonathan was in a state of near starvation and ready to do anything to gain his liberty. Peter produced a written agreement in which he would give an undertaking to pay Jonathan's debts. The conditions required Jonathan to surrender possession of the farm to Peter and go into voluntary exile. Jonathan who was in no position to refuse, signed the document and was subsequently released. He left the country in December 1778 on board a ship sailing for the West Indies. It is likely Peter obtained a cheap passage for him through his in-laws the Lamport family who owned a ship which traded with the West Indies.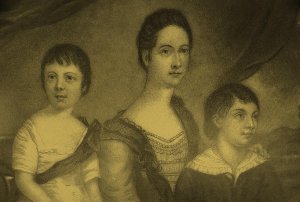 Margaret Tone with two of her children, Wolfe Tone is on the right. Although it is generally published that the child on the left is Matthew, it is more likely to be a sibling closer in age to Wolfe Tone than Matthew.
At this time Peter's coach building business had run into financial difficulties and he decided to move back to Blackhall. He left his eldest son Wolfe Tone, then aged fifteen, in Dublin to continue his education. However, two years later, his second eldest son William when aged only sixteen ran away from home and enlisted in the East India Company.
While Wolfe Tone was a student in Trinity College he first met his wife Matilda Witherington. On the 21st of July 1785 the couple eloped. Matilda was then aged sixteen and the story is best described by an entry in Wolfe Tone's diary as follows:
A beautiful morning in the month of July she accepted my proposal of marriage…
I took her to the Church in Dawson St where we were married
and I carried her out of town to Maynooth for a few days.
It is likely the couple stayed in the Inn in Maynooth which was on the site of the present Bank of Ireland building on the Main St. The Witherington family not surprisingly were furious with Tone who was a Kildare farmer's son with no money, no occupation, no means to support a wife, and above all had betrayed their trust. The newly-weds lived for a short time in Dublin but for financial reasons moved in with his father Peter Tone in Blackhall.
In the autumn of 1785, Peter Tone with his extended family were living in crowded conditions. The occupants included Peter, his wife Margaret, their eldest son Wolfe Tone and his bride Matilda (16), Matthew (14), Mary (6), Arthur (3) and one year old Fanny.
It appears Wolfe Tone spent a considerable period over the following months travelling between Dublin and Kildare until he graduated from Trinity in February 1786. Shortly afterwards Matilda gave birth to a daughter who was named Maria.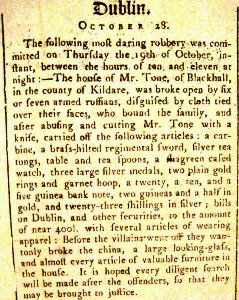 Details of the Tone farmhouse robbery in the Hibernal Journal, October 1786
In October 1786 a traumatic event occurred when the extended Tone family were subjected to a violent robbery. The entire family were tied up by the burglars who ransacked the house and took all the families valuable belongings. Wolfe Tone was in the courtyard when the robbers struck and was overpowered. At one stage during the robbery, the infant Maria was crying in her cot and one of the robbers lifted the baby up and placed her beside her Mother who was tied up on the bed. Among the items stolen were three large silver medals which Wolfe Tone had won for debating in Trinity.
The robbery was a severe financial loss to the family. The perpetrators were arrested shortly afterwards and at least one of them was executed. The events, however, did not foil Wolfe Tone's plans to move to London and continue his studies. In January 1787, he left for London, but was unable for financial reasons, to bring Matilda and his daughter who remained in Blackhall with his parents. While he was in London he met up with his brother William who was returning from India. The two brothers who had been inseparable for the first 14 years of their lives were reunited after seven years. In December 1788 with his studies complete he returned home accompanied by William and they arrived at the house in Blackhall on Christmas day. Wolfe Tone had not seen his wife and baby for nearly two years and William had not seen his family for nearly eight years.
At this point, Wolfe Tone had qualified as barrister and managed to settle his differences with his in-laws the Witherington family. He obtained a substantial dowry from Matilda's grandfather and moved with his family into fashionable lodgings in Dublin. He was now in practice as an attorney but disliked it and preferred politics.
In 1789 the dispute between Peter and Jonathan surfaced again. Jonathan in the interim had joined the army and served in India. He had obtained a degree of success in his career and returned home as a respectable army Lieutenant. He challenged the legality of the agreement that he made with Peter while he was in prison which he claimed was made under duress and initiated legal proceedings. Jonathan won the case and regained full possession of the family estate. This left Peter almost bankrupt. The Tone property in Dublin was sold off and Wolfe Tone used some of Matilda's dowry money to assist his father financially. William, who had made money in India also assisted his father. Peter with his family left Blackhall and moved back to the city where he obtained a minor position with Dublin Corporation.
Also at this time in 1790, Matthew, probably with financial assistance from his brother William, tried to establish himself as a cotton manufacturer in Prosperous. However due to the collapse of the industrial experiment in Prosperous at the time the businesses failed.
Jonathan, having regained possession of the property did not live long to enjoy his newly acquired wealth. In September 1792 he succumbed to tuberculosis an ailment that had plagued the Tone family. Wolfe Tone's sister Fanny also died in the same week with tuberculosis and both were buried in Bodenstown. The two principal beneficiaries of Jonathan's will were his brother Matthew Tone and his sister Mary Dunbavin. Despite the dispute with Peter, Jonathan kept on good terms with his nephew Wolfe Tone and bequeathed him a cottage on the farm. This resulted in a continued Tone residency in the area as Wolfe Tone moved his wife and family to the house. However, he continued to stay in lodgings in Dublin and paid regular trips to visit his family. He named his country cottage Chateau Bou or in English 'Mud house'.
Matilda and the family saw very little of him in the first two years of their residence in Chateau Bou due to his heavy engagement in politics. It was during this period that the United Irishmen was founded and he was fully occupied with his duties as secretary of the Catholic Committee. On one occasion he writes of having a meeting with the Duke of Leinster at Carton, then travelling to meet Connolly at Castletown, before returning meet Hamilton Rowan at Rathcoffey. Several occasions he writes of dining with Wogan Browne at Castlebrown now Clongowes and sleeping at Clane which refers to his family home at Chateau Bou. It was at this time in 1793 that Frank, another son, was born. He was named Francis Rawdon Tone after his godfather who was also known as Earl of Moria. Moria sent his personal Chaplin, Rev Berwich to Clane to christen him. The following year another son, Richard, was born but he died in infancy. Of Wolfe Tone's four children three were born in county Kildare with William the second eldest born in Dublin.
In 1794 Wolfe Tone was implicated in an affair known as the Jackson affair which linked him to a treasonable act. In the months following this critical period he adopted a low profile and lived permanently at Chateau Bou. However, due to negotiations involving the Chief Justice Sir Arthur Wolfe a cousin of Theobald Wolfe he gave an undertaking to go into voluntary exile in America. The government then agreed not to pursue charges against him.
Chateau Bou was his last residence in Ireland and he sold it to Matthew Donnellan a merchant from Clane in May 1795. He was the last of the Tones to live in County Kildare, however the family connection with Bodenstown was to continue.
The details of Wolf Tone's death are well-known, what has not been widely documented are the known facts of his burial and also the Tone family's connection with the burial ground at Bodenstown.
Wolfe Tone died on Monday morning, the 19th of November 1798. The authorities then released his body to the family. It was collected by William Dunbavin who was accompanied by his young son Nicholas who took it to their house at 65 High St Dublin. William Dunbavin was a first cousin of Wolfe Tone and was originally from Naas. His wife Frances Wills was also his first cousin and she was also a first cousin to Wolfe Tone. Some sources suggest the original Dunbavin residence was close to Naas Catholic Church and another source indicates the family held property on the Main Street. Wolfe Tone's parents Peter and Margaret at that time in 1798 lived with the Dunbavins' in High Street.
Wolfe Tone's remains were waked at the house on Monday night and Tuesday night. According to the relatives 'a great number of people came and sat in the room where the corpse was laid out'. However, an order came from the Government that interment should take place immediately and as privately as possible. On Wednesday the remains were taken from Dublin and more than likely transported by barge to Sallins. It was then discreetly buried in the family plot at Bodenstown graveyard. In order to comply with the orders of the authorities only two people attended. An account was later given by William Dunbavins' son Nicholas who stated that his father and James Ebbs were the two people that attended the funeral.
Shortly before Wolfe Tone died when he was a prisoner he requested that his personal possessions be divided between his wife Matilda and his father Peter. Following his death the authorities passed on 117 crowns [£29, 5s] and his trunk full of clothes to his father. A further 116 crowns [£29] and a gold watch were given to his brother-in-law Edward Witherington to pass on to Matilda. When she was informed of this she gave instructions to Edward to pass them on to her father-in-law Peter Tone. However, Edward did not fulfil this request immediately. It was many years later following Peter death that he eventually passed the property on to the Tone family.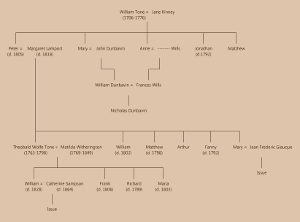 The Tone Family Tree
Wolfe Tone's burial was the second family interment in Bodenstown in seven weeks as his brother Matthew had been executed the previous September. In 1794 Matthew had travelled to France to enlist in the French army, however on arrival he was arrested on suspicion of being a spy and was imprisoned for nearly a year. Following his release he went to New York but missed seeing his brother, Wolfe Tone, as the two were unaware that they were both in the same city at the same time. They eventually made contact and corresponded by mail. Wolfe Tone by this time was in France and used his influence whereby he recommended Matthew to the French army. Matthew then returned to France and was appointed a captain in the French army. In 1798 he joined the ill-fated Humbert expedition and was captured at Ballinamuck. He was imprisoned in Newgate jail in Dublin, sentenced to death and was hanged at Arbour Hill on the 29th of September, 1798.
There is an interesting story concerning Arthur, the youngest of the Tone brothers. Arthur had left home at age twelve and worked as a sailor. In April 1798 Arthur travelled to Hamburg and made contact with his family. Wolfe Tone used his influence with the French minister of the Marine and succeeded in obtaining a position for Arthur in the Dutch navy who were allied to the French. In the autumn of 1798 the Dutch fleet gave assistance to the French expedition to Ireland and Arthur was on board a frigate that was captured following an encounter with the British navy. Arthur was then taken prisoner by the British. While he in an English prison he received news of the death of his two brothers. An Irish officer serving in the army that was attached to the prison saw him weeping and when he discovered the reasons he assisted him in making his escape.
In the late 1790's, William Tone was serving as an army officer in the Mahratta which was an independent Confederacy in India. By the early summer of 1798 there were persistent rumours of French plans to attack English interests in India. It appears that William's sympathies were with the French and it is known that he made contact with his brother Wolfe Tone in France. Wolfe Tone recommended him to the French authorities in the event of French intervention in India. When William learned of his brother's death he immediately sent Matilda, £233, with promises to fulfil the duties of a father to her children and an assurance that he would also provide the costs of their education. He also promised to send Maria, his beloved niece, 50 guineas later that year. William at this stage had been promoted to a position as head of a regiment in the Mahratta service. Sadly, he did not live long enough to keep his promise to Matilda as he was killed in a battle in India in 1802.
Wolfe Tone's sister Mary also had an unhappy ending. In 1795, she accompanied him to America. When Matilda left America in late 1796 to join her husband in France, Mary travelled with her. On the journey in the ship Mary met a Swiss merchant named Jean Frederic Giauque who was returning to his home from a trip and they fell in love. Arriving on shore they married and settled in Hamburg. Subsequently, the couple assisted Wolfe Tone by helping out with correspondence between various members of the United Irishmen on the continent. In 1799 Mary, her husband and their son emigrated to Haiti in the West Indies. However shortly afterwards, she contacted yellow fever and died.
One favourable comment relating to the activities of Wolfe Tone, surprisingly came from Arthur Wellesley the Duke of Wellington. Wellington who was not noted for giving favourable comments to any United Irishman described Tone as follows:
Wolfe Tone was a most extraordinary man, and his history is the most curious of those times. With 100 guineas in his pocket, unknown, un-recommended, and without friends, he went to Paris and persuaded the French Government to send an army of 15000 men to over-throw British authority in Ireland. This was an achievement of genius.
Wolfe Tone's father, Peter died at his home in Dublin in August 1805. The government sent a spy to the funeral at Bodenstown and he mingled among the large number of mourners that attended. Many of those were supporters of the United Irishmen and had come to pay their respects at the funeral of a man who had lost practically his entire family in tragic circumstances connected to the rebellion. County Kildare at the time was still under 'Martial Law' following the attempted Emmet Rising two years previous. However, intelligence gathered at the funeral was vital in influencing the Government to begin a programme of releasing prisoners connected to the rising.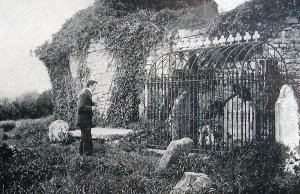 Original landscape of Wolfe Tones Grave
Very little information survives relating to Peter's widow Margaret. One account in 1810 indicates that she was living in Monck Place, Phibsborough and was supporting a young girl. It has been suggested that the girl may have been her granddaughter a natural child of her son Matthew. Margaret died in 1818 at her home in Phibsborough and was buried with her deceased husband and sons in Bodenstown.
Wolfe Tone's only sibling left alive at this time was Arthur. It was known that he left for America shortly after 1804 and he had not made contact with his family. In 1812, Matilda, Wolfe Tone's widow who was living in Paris at the time, learned that Arthur was serving in the United States navy. She was not impressed with him as he had not kept in contact and, unlike his chivalrous brother William, he did nothing to fulfill his obligations as head of the family. However, in fairness to Arthur it is believed that he served with distinction in the American forces against Britain in the War of 1812.
Matilda, as a widow of a French general had some difficulty initially in obtaining a pension from the French government and eventually her son William joined the French army. Following the fall of Napoleon, the Tones decided to leave France. In 1816 Matilda married Thomas Wilson who had been a friend of her late husband and who had been for many years a benefactor to the family. Together with William Tone they applied to Dublin Castle for permission to return home but this was rejected. They then emigrated to America and settled near Washington.
Up to this time Mililda had refused to publish Wolfe Tone's diaries, however following the death of her second husband in 1824 and the publication of extracts of the diaries she changed her mind. 'The Life of Theobald Wolfe Tone' edited by his son William was published in 1826 and it propelled Wolfe Tone into a leading role as one of Irelands principal martyrs.
The Tone family, in the early nineteenth century continued to be plagued by the affliction of tuberculosis. When Matilda was living in France two of her children Maria and Frank died with the disease and in 1828, William also succumbed to the disease. He had married two years previously and left a one year old daughter.
At this time it was well-known locally in the Sallins area that Wolfe Tone was buried in Bodenstown and the following detail relating to the parish was published in Lewis's Topographic Dictionary in 1837:
The celebrated Theobald Wolfe Tone was a native of this parish,
and lies in the same grave with his father in the churchyard.
In 1843, the Young Irelander leader Thomas Davis accompanied by John Gray paid a visit to Bodenstown in search of Wolfe Tone's grave and were initially unable to find it. They approached a local blacksmith who lived nearby and requested assistance. He accompanied them back to the graveyard and pointed out the grave which was beside a monument to Wolfe Tone's grandfather William. Davis and Gray were astonished to find that there was no headstone over Wolfe Tone and decided to rectify this. They subsequently organised funding and a memorial fitting for a leading patriot was erected the following year. The inscription on the memorial was as follows:
Sacred to the Memory of Theobald Wolfe Tone,
who died for Ireland on 19 November 1798
John Gray wrote to Matilda in America and informed her of the project. The death of Matilda in 1849 brought to an end a direct family connection to Bodenstown that stretched back over a century. She was the last surviving member of the Tone family to have lived in the area. Her next of kin was her granddaughter Grace (nee Tone) Maxwell who survived until 1900 and today many of her descendants reside in the United States.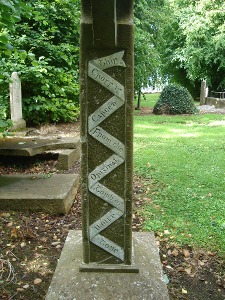 A memorial in Mainham Graveyard thought to be carved from the original Wolfe Tone Stone
There is an interesting twist to the story of the Wolfe Tone memorial. Many visitors began visiting Wolfe Tones grave and some would take away souvenirs. Unfortunately the souvenirs would be a part of the actual memorial itself. It appears small portions of the monument would be chipped off and taken away as a souvenir. In time the memorial looked quiet tattered and certainly not a fitting monument for a leading Irish patriot. In September 1873, the 'Dublin Wolfe Tone Band' erected a new memorial over Wolfe Tones grave in Bodenstown. In the same period a monument with an unusual inscription was erected in Mainham graveyard near Clongowes Wood. It commemorates Peter Mackey from Mainham who died in his twenties in 1872 and it consists of two portions, firstly, a base and secondly, a Celtic cross on top. The inscription on the side of the Celtic cross, which is in old Irish texts reads:
This cross is carved from the original tomb of Wolfe Tone
It may well be that the original monument erected in Bodenstown by the Young Irelanders was recycled and re-used as a memorial in Mainham graveyard.
Today the Wolfe Tone grave is one of the most famous graves in the country but we should not forget the illustrious family members that also rest in the family burial ground.